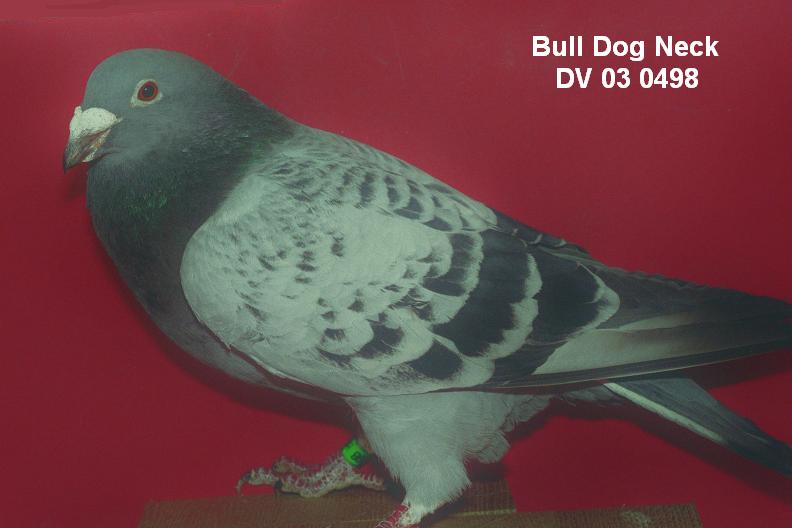 "Top 10" Combine Placements
Distance
Combine
Regional
POS
Birds
POS
Birds
310 kms
4th
1899 birds
11th
7269 birds
418 kms
7th
1595 birds
47th
9316 birds
320 kms
7th
1146 birds
29th
7329 birds
310 kms
4th
909 birds
73rd
5467 birds
DV 03 0498 Has many other top prizes and a more complete listing will be available to interested parties
Sire: DV 02.314 Blue
Won 46 prizes in 4 years / Best Performance: 1st ~ 836 birds, 2nd ~ 1895 birds, 2nd ~ 1082 birds
Son of Golden Breeding Pair (Belg.00.2117110 x Belg.00.2117171)

Belg.00.2117110
direct G. Verbruggen out of Belg.90.22553000 x Belg.96.6307224
Belg.90.22553000 ~ son of Kletskop [Kletskop 1st ~ 10.417 birds 1st ~ 1.802 birds, 1st ~ 1.575 birds, 1st ~ 899 birds, 1st ~ 759 birds]
Belg.96.6307224 ~ direct Engels, daughter of famous 231

Belg.00.2117171
direct G. Verbruggen out of Belg.93.2132110 x DV 97.1497
Belg.93.2132110 ~ Fantast" G.Verbruggen, 1st ~ 2.055 birds, 1st ~ 1.725 birds, 2nd ~ 12.829 birds, 42nd ~ 9.222 birds, 138th ~ 10.652 birds
DV 97.1497 Daughter of "Het Wonder"
Het Wonder" NL-93.1979344 ~ 1st 10.229 birds / 1st 10.056 birds / 1st 5.087 birds / 1st 5.038 birds / 8th 9.805 birds / 12th 10.830 birds
"Het Wonder" is inbred Benjamin (last son of Mueleman's Golden Pair)
Dam: DV 02.205
DV 02.205 is out of a full brother to DV 02.314 (her mate)
Sire of 02.205 is DV 6221030 (Son of Belg.00.2117110 x belg.00.2117171)
Dam of 02.205 is DV 3731030 (Daughter of BORIS x '019' Line Janssen Hen)
BORIS" ~ 1st overall champion cock combine /13 races /13 prizes in 1999 !!!!

As you can see from the photo (above) DV 03 0498 is a beautiful racing pigeon and when shown in the big winter show placed 1st Best in Show ~ Male Racing Pigeon. We have here beautiful confirmation and a long list or top performances, many of which are not listed here but will be supplied upon request.
Sale Price: $ 1,250 + shipping and quarantine fees
Pete and Andrea also have two other champion racing pigeons for sale including:

---
Lolita ~ DV 04 0754
As a yearling:
1st yearling hen against 1,237 birds
1st Overall yearling 3,146 birds
1st Overall Pigeon 7,043 birds - 262 Miles - 1456 YPM / 5 1/2 hours on wing

4th Champion Yearling hen / 11th Champion Yearling Overall ~ 9000 birds (3 x 262 miles and 1 x 322 miles)

Brother 03.678: won 11 prizes in 2005 ~ 2nd Combine Champion Ck
Brother 03.660 ~ 1st ACE Pigeon Ck Combine in 2005. 3rd,4th,7th,16th,35th,46th,54th,59th,261th @ 1500 birds in competitions

Bloodlines: DE KLAK x Desmet-Matthys
Sale Price: $ 1,650 + shipping and quarantine fees
---
"Shakira" 1st Nat Winner Hungary
Dark chequer hen, Mainly F. Engels Bloodlines
Sale Price: $ 2,250 + shipping and quarantine fees


---
Contact Info:
All offers are without obligation and subject to final confirmation
First come, first served!!!

Owner: Premium Quality Loft
contact Pete at e-mail: Luckypieper@web.de
or call++004915773819456