Irma
A Breeding Hen Destined To Become An American Legend
By Alex Cornella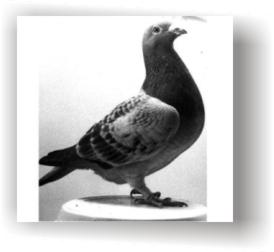 85 GFL 557 Janssen Slate Hen
Irma was 10-years old and quite plump when this photo was taken. If you look in the seminal book by Ad Schaerlaeckens, "Janssen Brothers Arendonk: The Greatest Pigeons Fanciers of All Time," you will find a photo of the Old Merckx on page 122. It bears a striking resemblance to this photo of Irma.
Special thanks to Gerald Hebert for providing background on the Janssens in Irma's pedigree as well as the inspiration for compiling the performance record of the offspring of this exceptional hen. Also many thanks to Mike Ganus for selling me a once-in-a-lifetime breeder.
Irma's roots are grounded overseas at the Janssen brother's loft in Belgium. Remember the famous "019?" His mother,"Kweekduif van '67," was actually one of the best producing hens in the brother's loft at the time. She produced, Belg.73-6736019 BC C, the best racing cock the brother's ever owned, Belg.73-6276348 BC H grandmother to Jonge Rocket, Belg. 73-6276349 BC C sire of "Schouwmen", and Belg. 78-6789364 BP C sire of "Adriaan" when she was paired to "Oude Merckx."
Mike Ganus' "969" (Irma's sire) is known as the best breeding son of the "019" in the U.S., but do you know "969" is also bred from a son mated to a grand daughter of "Kweekduif van '67?" That makes "969" a half brother to Janssen brother's "Jonge Rocket." "Kweekduif van '67" was used as mate to all the best Janssen super stars, when mated to "Jonge Merckx `70." They produced Belg.75-6743170. He became the father of Ad Schaerlenkens' 1985 National Orleans winner. Amazingly Ad won National Orleans again in 1996 with a grandson of the 1985 winner, linebred using the same breeding formula. "Kweekduif van '67," when mated to a son of "Jonge Scherpe," produced a super breeding hen "Schoon Blauw `76:" "Kweekduif van '67" when mated to "Goede Jaarling `72" produced another super hen "Klein Blauw `78 (Belg. 78-6121300). The "Klein Blauw `78" was a very good racer and a striking beauty. She was the mate to "Jonge Merckx van `70". Many of the present-day Janssens are down from this pair.
After he completed the Janssen book, Ad Schaerlenken received a gift, Belg.80-6305981, Blue Check hen and daughter of "Jonge Merckx" and "Klein Blauw `78," from the Janssen brothers. Belg.80-6305981 was later sold to Mike Ganus and was the mate to "969." This mating of a grandson mated a granddaughter of "Kweekduif van '67" resulted in Irma.
Following is her short pedigree:
Sire:

969 Blue
80 Belg 969

Dam:

Princess Blue Check
80 Belg 981

Grandsire:

80 Belg 019
Young Merckx

Grandam:

75 Belg 335

Grandsire:

70 Belg 257

Grandam:

78 Belg 300
I bought Irma in 1985 at Mike Ganus' loft as a young bird, along with four other pigeons. Ganus had recently acquired "969" and at the time his birds were still affordable. Ganus pointed to a little slate hen in the flypen and said she was a good one. I was attracted to Irma because of her slate color and I liked the way she felt in my hand. At that point in my pigeon career I barely knew who Old Merckx and his now famous sons were, so the notion that she was a granddaughter of 019 did not have the least influence on my decision to buy her. I put the hen in the basket along with the other birds I selected and took her on the plane with me back to New Jersey. The rest is history. Her offspring form the nucleus of our Janssen stud and I am quite fortunate to have had this daughter of "969" in our loft. Her brother, Assured Gold, was reportedly sold to a Japanese fancier for $70,000 and now that I have had an opportunity to assess her value as a breeder I can say she was one of a handful of bargains I ever bought in my life.
Irma was only bred to two cocks: Iacocca and Godfather. Iacoca (85 GFL 50 Blue Check) was down from the "Old Sheerpen" and "Roodoger." Godfather(87 WHC 1217 Blue) was a grandson of 019.
I bred Irma from 1986 until she became infertile in 1993. She died on January 7, 1996. 71 youngsters were taken from her. I lost quite a few off the loft and in training to birds of prey, I suspect. In fact, not many of her youngsters proved to be good racers for me. More than half her youngsters were sold, given as gifts and donated to auctions.
Pigeon flyers are notoriously poor communicators and poor record keepers. Only a handful of the flyers who were lucky enough to get Irma's children ever reported back to me on their results. I suspect that a good many of them did not really appreciate the true value of Irma's children. In all honesty, I have to admit that I did not truly appreciate her great value as a breeder of superb breeders until very late and wish I had kept in better contact with flyers who received her youngsters as well as had kept more detailed records.
Her children, grandchildren and great grandchildren have been winners and diploma winners in the toughest competition. Her offspring excelled in the short and middle distances, although there were a fair number of diplomas in 300-mile youngbird races, which to my way of thinking are the equivalent of a long-distance race for old birds, as well as diplomas in the 400 mile and 600 mile old bird races.
Suffice to say I can document that Irma's children, grandchildren and great-grandchildren have won a total of 138 club, combine and futurity diplomas. I am sure there are more out there, but I don't have the data in hand. If you own descendents of Irma and have not been in touch with me for a while, please contact me with your results.
Following is the breeding record I have been able to piece together from my own records and from feedback I have received from other flyers.
1986 - Mated to Iacocca - 6 youngsters banded
1987 - Mated to Iacocca - 11 youngsters banded
WAYN 7442 BC H - gifted to John Schaper, Wayne, NJ
Won 3 CJC diplomas vs. 1000s of birds. John was an excellent flyer and competitor and told me he rarely won diplomas in the short races before he raced this hen.
1988 - Mated to Iacocca - 10 youngsters banded
LLF 802 BC C - sold to Andy Miner, Methuen, Mass
A fantastic breeding cock that is still producing at 14 years of age.
Bred:
7 children that won 36 diplomas, including 7 1sts
5 grandchildren that won 11 diplomas, including 2 1sts
Examples include:

98 MV 1045

21st Boston Concourse vs. 1528 birds 300 miles
6th North Section Boston Concourse vs. 837 birds 300 miles
1st Spindle City club vs.195 birds 300miles
1st Spindle City Club One Bird Derby vs. 17 Birds 100 miles
3rd Spindle City Club vs. 122 birds 300 miles

00 MV 702

12th Boston Concourse vs. 1595 birds 200 miles
6th Spindle City Club vs 212 birds 200 miles
2nd Spindle City Club vs. 122 birds300 miles

98 MV 1044

2nd Spindle City Club One Bird Derby 17 birds 100 miles

91 TTS 513

1st Merrimack Valley Club Auction Race 300 miles

99 MV 1142 (grandson 802)

6th Spindle City Club vs. 137 birds 600 miles
LLF 803 BC C - Sold to John Florek, Benld, IL
Bred:
6 first place winners, including 1st combine
CJC 851 BC C (Iaccoca II) - sold to Mike Marquez, Kamuela, HI
Bred:
94 CJC 3360 - Sold to Mike Marquez, Kamuela, HI
Bred:

8th club vs. 146 birds, 353rd CJC vs. 4176 birds, 150 miles for CFL
Numerous diploma winners for Mike Marquez

93 CJC 307 - Sold to Andy Miner, Methuen, MA
Bred:

3rd club vs 171 birds, 200 miles

93 NWJ 324 - flown, then stocked by CFL
Bred:

5th Club vs. 122 birds, 300 miles
8th club vs. 87 birds, 10th CJC vs 2,400 birds, 200 miles
90 IND 2584 - sold to Craig Cipolla, NY
Bred:
8th combine 200 miles
3rd combine 100 miles
4th Combine, 150 miles
2nd club, 5th combine vs 1,141 birds, 150 miles
1989 - Mated to Iacocca - 7 youngsters banded
IND 2204 - Sold to Dick Follis, Des Moines, IA
Bred:
1990 - Mated to Iacocca - 15 youngsters banded
IND 2561 - Sold to Roland Nice, New Lenox, IL
Bred:
a 1st place winner every year from 1991-96, last year I heard from Roland
IND 2562 BC H (Chris) - Stocked
Bred when paired to Adriaan:
94 NWJ 922 IF Hall of Fame Honorable Mention, 1994 American Ace Pigeon. (Interestingly, 922 beat the next bird in the point standings by a wide margin and topped birds from lofts of many big names in the sport like Clausing Company [2nd], Suvit Aswinorsport sp? [9th], John Sampson [3rd,11th], Pete Porbor [10th], Rick Mardis [15th], Mike Ganus [20th])
922 was destined to be one the most consistent performance pigeons I ever bred, however I made the mistake of letting him out of the loft during the winter of 1994 and a Peregrine Falcon killed him.
1st Club
4th club, 40th CJC vs. 3319 youngbirds, 189 miles
7th club
8th club

94 NWJ 923 BC (Home Alone) IF Hall of Fame 2nd Place200 to 500 Lofts American Ace Pigeon Long Distance -- 3,000+ Birds Category
1st CJC vs. 3,013 ybs by more than 30 minutes 300 miles
9th CJC vs. 2,900 old birds 300 miles
10th CJC vs. 2,609 old birds 400 miles
25th CJC vs. 3,684 old birds 200 miles
169th CJC vs 3938 birds 200 miles
17th Northeast 4-State Race vs. 4,570 old birds 400 miles
1st Club 4 times
2nd Club 3 times
Bred:

97 NWJ 503

4th Club vs. 65 birds, 250 miles

97 NWJ 504 BC C - sold to Bill DeRossiers, Methuen, MA

Bred his best youngbird on 1998 YB team when mated to a cousin (from 95 NWJ 1099 below)

98 NWJ 3171 sold to Gerald Hebert, Gueydan, Louisiana

Bred 01 CAJ 342 1st Cajunland Club vs. 130; 7th Deep South Cajun Combine vs. 347 birds, 200 miles
8th South Louisiana Concourse vs 475 birds, 200 miles

98 NWJ 3110 - sold to Mark Gabiola, Idaho

Bred 1st 2001 Summer Series 5-Race Futurity

95 NWJ 1050 BC C - Sold to Mark Gabiola, Idaho

1st Northwest Jersey Club vs. 150 birds 300 miles for CFL
3rd Old Cocks, Idaho Pigeon Show
Bred:

High Point Bird, 6th place average speed, 2000 Summer Series 5-Race Futurity

98 NWJ 3103 BC H - Sold to Charles Matthews, NC
Bred:

3 diploma winners with 3 different cocks

95 NWJ 1070 BC H
Bred:

93 HPF 903 Slate H - flown as a YB, then stocked
1st club vs 146 birds, 100 miles
Equal 1st HPF Futurity, 300 miles

97 NWJ 501 - Sold to George Todt, Calif.
Bred:
99 NWJ 1330 Slate Hen - Sold to Julius Arnold, Warren, NJ
Bred:
96 NWJ 1340 - Sold to Mark Gabiola, Idaho
Bred:

3rd average speed 2000 Summer Series 5-Race Futurity

95 NWJ 1099 BC C - Stocked, then sold to Tom Sun, Taiwan in 2000
Bred:

98 HPF 3179 Griz C - 3rd Club vs. 71 birds, 99th CJC, vs. birds, 140 miles
99 HPF 906 Griz C - Equal 1st High Point Flyers Futurity
99 HPF 907 Griz H - Gift to Harry Burns, Franklin, NJ - Club diploma winner
Bred: 1st club, 300 miles, CJC diploma winner in smash race

95 NWJ 1080 BC H - Stocked
Bred:

97 NWJ 517 -Sold to Bill DeRossiers, Methuen, MA
Bred outstanding birds

97 NWJ 520 BC C
Bred:

98 HPF 3122 RC C- Sold to Gerald Hebert, Guyen, LA
Bred: 3-time diploma winner
1991 - Mated to Godfather - 6 youngsters banded
22793 BLWF C - Sold to Tim Kirschner, Cleveland, OH
Bred:
7th club vs. 137 birds, 100 miles
8th club vs 192 birds, 150 miles
4th club vs 210 birds, 100 miles
1st club vs 194 birds, 100 miles by 50 ypm
22706 - Sold to Tim Kirschner, Cleveland, OH
Bred:
2nd club, 47th combine vs. 1655 birds, 100 miles
2nd club, 27th combine vs. 1864 birds, 150 miles
1992 - Mated to Godfather - 6 youngsters banded
I 430 (Sonny) - sold to Carl Szentendrei, Round Lake, IL
Bred:
97 NWJ 517 - sold to Bill deRossiers, Methuen, MA
Bred outstanding birds
1993 - Mated to Godfather - 11 youngsters banded
NWJ 301 BC C (Vito) - Sold to Mark Gabiola, Idaho
Bred:
94 NWJ 1994 BC C for CFL
7th club vs 178 birds, 78 miles
High point bird of the year for Mark Gabiola
98 HPF 3127 BC C - sold to Gerald Hebert, Gueydan, LA
Bred:

Cajun 1086 diploma winner
Cajun 1089 diploma winner
Cajun 0830 diploma winner
NWJ 319 BC H (Connie) sold to Bill Jeffries, Fenton, MO, in 2000
Bred:
95 CJC 5562 BC C

244th NEU Race vs. 4570 pigeons 400 miles
2nd Club 150 birds 300 miles
196th combine 4879 birds 300 miles
2nd Club 300 miles

98 NWJ 3155 BC H

2nd club vs. 91 birds 150 miles
10th Club vs.92 birds 250 miles
25th combine vs. 3031 birds 250miles

98 NWJ 3156 BC C

3rd Club vs. 113 birds100 miles
1st clock bird 2 times in 1999 old birds

98 NWJ 3108 BC H

13th combine vs. 3031 birds 269 lofts 250 miles
6th Club vs. 92 birds 250 miles

99 HPF 983 BC H

Equal 1st High Point Futurity vs. 90 birds 250 Miles

95 NWJ 1008 BC C - Sold to Mike Marquez, Kamuela, HI

Produced children and grandchildren that have been 1st Combine in Hawaii in very tough cross-channel races.
For example, a son, 98 HWKR 339, was 1st Big Island Invitational Racing Pigeon Combine - 200 Miles - 177 Birds. The birds were released in the rain with 30 MPH headwinds. 339 made 784 YPM, beating the 2nd bird by more than 4 minutes and the 3rd bird by more than 27 minutes.

NWJ 320
Bred:

94 NWJ 901 - Gift to Jack Banks, Methuen, MA
3rd vs. 155 birds, 200 miles