On March 5th, 2004 the legendary flyer Jos Van Limpt, fondly known as "De Klak", died at the age of 80 years old. Five weeks later, on April 12th, nearly 1000 people attended his record-breaking final auction. The 66 birds offered, sold for $517,375 USD. The average price was $7,839 with the highest priced bird, a half brother of the legendary '613', being sold to Chic Brooks from Hapyco Lofts of California. In fact, Chic Brooks walked away with 11 of the 66 birds and Chic purchased "nothing but the cream" of the De Klak final sale - including a son and daughter of the '613'.
I won't go into detail about Jos Van Limpt and his racing accomplishments, as others knew him better and will relate his story more fully at a later time. I will say, that no one including the Janssen Brothers themselves ever raced and bred the Janssen strain with more success. Only death itself could stop De Klak from dominating the race scene.
Even in 2002, at age 78, he was Champion of his combine though sickness and hospital stays prevented him from entering his loft except one time during the year. Instead he depended on his loft manager to prepare the birds according to his instructions.
On many occasions over the past four years, Ad Schaerlaeckens has clocked De Klak's birds for him. Ad mentions how this relationship only solidified his belief that De Klak was one of the great handlers of all time. With Ad in the loft, De Klak would shout to him, as the birds arrived, telling Ad into which next box a bird would land. Even at his advanced age, Jos Van Limpt could recognize his birds in the air as they returned from a race and knew the location of each bird's nest box.
Jos Van Limpt purchased his first Janssen birds direct from the brothers in the 1940's and continued making purchases up until the 1990's. However, during the last 11 years, no additional purchases were made from the brothers as his own family was consistently surpassing the quality of the brother's birds, which should be expected considering the advanced age of the brothers and the fact that six of the seven brothers had died during this time period.
I think, when we look at the number of people who attended this auction and the prices offered for the 66 birds, we can safely say that Jos Van Limpt must be one of the top rated flyers of all time.
North American fanciers can thank Chic Brooks of Hapyco Lofts for acquiring these 11 birds. In the years to come, the best of the De Klak Janssens, will be available to North American fanciers thanks to Chic's efforts. With 34 of the 66 birds going to Taiwan and the rest scattered across Europe and around the world, these 11 birds must represent the greatest concentration of De Klak Janssen original breeders anywhere in the world today.
The Highest Priced bird at the auction: "Blauwe 26 v. '99"
4 X 1st
Half brother of the legendary '613'
Sire and grandsire of race winners, ace pigeons and breeders of winners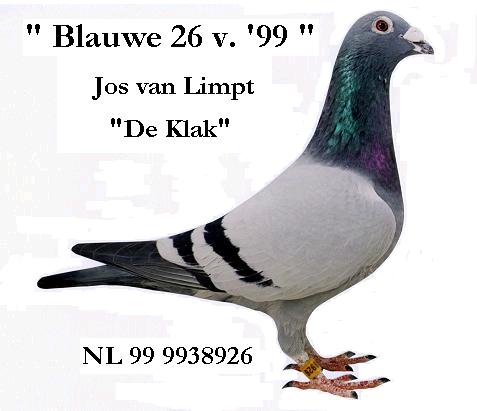 1999:
4th Ace Youngbird Midfond Afd. Oost-brabant Region 1

2001:
3rd Overall Ace Pigeon Old birds Reusel
6th Ace Pigeon Midfond Old birds Reusel
8th Ace Pigeon Vitesse Old birds Reusel

4 X 1st and winner of 36 prizes

Some of his best placements (no duplicates) include:
1st ~ Reims 1025 d.
1st ~ Sezanne 1943 d.
1st ~ Chantilly 423 d.
1st ~ Houdeng 80 d.
5th ~ Chantilly 360 d.
6th ~ Morlincourt 3080 d.
8th ~ Chimay 914 d.
13th ~ Sezanne 1873 d.
14th ~ Chimay 1038 d.
16th ~ Sezanne 724 d.
17th ~ Houdeng 892 d.
22nd ~ Houdeng 819 d.
etc.
Few will ever attain to the racing success of Jos Van Limpt. Fewer still will ever breed prepotent birds with the worldwide reputation and impact of "De Knook", "Verbart 46", "613", "Marietje", the good breeding pair "Vechter x Witpenneke", etc.
Here was a man that possessed the double-edged talents of Master Breeder and Master Handler. Against these, there is no defense. Well done "De Klak", well done!